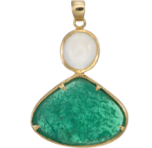 18K Gold Emerald & Opal Pendant Necklace
This elegant pendant features a rich emerald and Mexican opal set in 18 karat gold. 
Emerald is called the "jewel of kings" and represents eloquence. It is May's birthstone.
Ancient Romans thought that opals were the most powerful gemstones because they contain so many colors. Bedouins believed opals contained lightning.
Opals are said to strengthen and reinforce positive thoughts. In addition, wearing opal jewelry inspires creativity.
Details:
20 mm x 25 mm
18 Karat Gold: 3.5 grams
Emerald: 5.01 carats
Mexican Opal
This item ships directly from Thailand. Please allow up to two weeks for delivery.