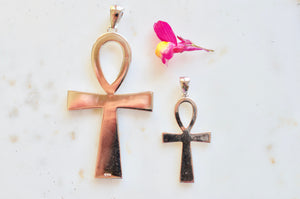 Small Sterling Silver Breath of Life Ankh Pendant
The Ankh is an ancient Egyptian symbol of life. It's referred to as the "key of life" or the "cross of life" or "breath of life". It is not just our mortal life that is represented by this ancient symbol, but the afterlife as well. Egyptians believed mortality and beyond together make up this eternal life.
The Ankh is thought to have originated as the belt buckle of Isis, thus also attributing the symbol to fertility. 
We made this piece to celebrate life in all its forms! It's a simple, recognizable symbol that goes well as a layering piece or as a stand-alone. It speaks to those that wish to be minimal as well as those that wish to layer and adorn with other pieces.
Without the bail, this sterling silver Ankh pendant measures just shy of 1.25" in length. We offer this piece in two different sizes. The Large Sterling Silver Key of Life Ankh Pendant measures 2" in length.
Our Serket Scorpion Citrine Sterling Silver Pendant also celebrates Ancient Egypt.
The breath of life is in the sunlight and the hand of life is in the wind.
Kahlil Gibran