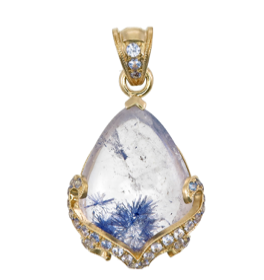 Very Rare 18k Gold Quartz with Dumortierite Inclusion Pendant Necklace
This extremely uncommon and rare piece of quartz features a dumortierite inclusion. Dumortierite is a very rare aluminum borate silicate mineral. It promotes clarity and self-confidence.
Set in 18 karat gold, an additional 37 blue sapphires adorn this unique piece of fine jewelry. 
Details:
15 mm x 25 mm




18 Karat Gold: 1.92 grams

Quartz: 7.1 carats

37 Blue Sapphires: 0.34 carats
This item ships directly from Thailand. Please allow up to two weeks for delivery.