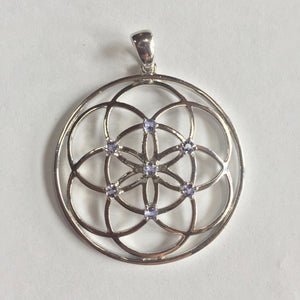 Sterling Silver Seed of Life with Tanzanite Necklace
This larger version of our sterling silver seed of life measures about 1.75'' across and is adorned with beautiful pale blue tanzanite. 
The seed of life is found across the world as an ancient symbol of creation. It is said to bring blessings and protection to those that wear it. It is also used for fertility and to be worn during pregnancy.