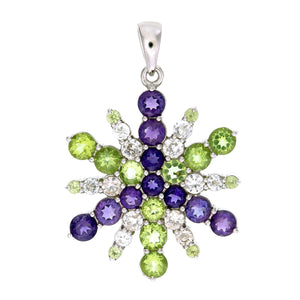 Mt. Ritter Peridot, Zircon, & Amethyst Snowflake Mandala Pendant
This is a variation of our snowflake theme comprised of 37 gemstones of Amethyst, Peridot, and natural white Zircons.
Introducing our exquisite Mt. Ritter Peridot, Zircon, and Amethyst Snowflake Necklace, a stunning piece inspired by the majestic beauty of nature's snowy landscapes. This necklace captures the essence of winter with its intricate design and breathtaking gemstone combination.

At the heart of this necklace rests a dazzling snowflake pendant, crafted with utmost precision and adorned with an array of gemstones. The ethereal beauty of Mt. Ritter Peridot stones radiates from within, infusing the pendant with vibrant green hues that symbolize growth and abundance.

Accentuating the peridot's allure, shimmering Zircon gemstones surround the snowflake, mirroring the glistening ice crystals that dance in the winter air. Their brilliant sparkle adds a touch of elegance and sophistication to the piece.

Adding a regal touch, deep purple Amethyst gemstones adorn the edges of the snowflake, symbolizing clarity of mind and spiritual wisdom. Their captivating beauty captures the essence of tranquility and inner strength.

Crafted meticulously, this necklace is made from high-quality materials, ensuring durability and longevity. The adjustable chain allows for a comfortable fit, while the intricate details of the pendant showcase the craftsmanship and artistry behind its creation.

Wear this Mt. Ritter Peridot, Zircon, and Amethyst Snowflake Necklace as a reminder of nature's beauty and the magic of winter. Whether it's a special occasion or a desire to add a touch of elegance to your everyday style, this necklace is sure to captivate hearts and turn heads wherever you go. Embrace the enchantment of the season and let this exquisite piece become a cherished part of your jewelry collection.