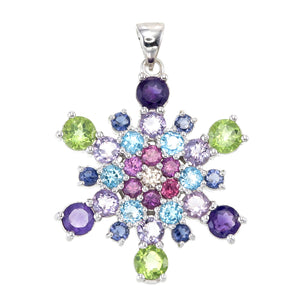 Mt. Whitney Amethyst, Rhodolite, Blue Topaz, & Peridot Sterling Silver Snowflake Pendant
This graceful snowflake pendant features amethyst, rhodolite garnet, blue topaz, and peridot set in sterling silver. The colorful arrangement is so pleasing to the eye and features many of our favorite gems. 
Garnet is said to be the "traveler's stone". In addition, it is also believed to encourage compassion, self-confidence, and successful business.
Peridot is one of only two gemstones not formed in the Earth's crust (diamond is the other). It's called an "extreme" gem because it is born of fire in the molten rock of Earth's upper mantle. Thanks to earthquakes and volcanoes it is brought to the surface. Peridot has also been found in comet dust!
Amethyst is a favorite gem for it all its purple shades and hues. Did you know that the name amethyst comes from the Greek word for "not intoxicate"? Wearing amethyst jewelry is said to protect one from drunkenness. Maybe that's the reason we love this gem!
Topaz symbolizes love and affection. Wearing this pendant will only add to your already sweet self! This gemstone is also said to promote creative energy and promote good fortune, especially in love. What a sweet gift this would make to that special person in your life!
Each piece in our Snowflake Line is unique just like the cold flakes that fall from the sky. We let each gem speak to us in how they should be arranged. We let the colors and gemstones tell the story. We did not set out intending to make pendants that resemble snowflakes; however, in trusting the gems to arrange themselves, they naturally did so in a hexagonal structure, just like real snowflakes in winter. 
We've named our snowflake pendants after famous mountains and ski resorts. We chose Mt. Whitney for this charming piece, the tallest mountain in the contiguous United States. The native Paiute tribe called the mountain Too-man-i-goo-yah, which translates to "the very old man." It was once the home to the Great Spirit.
Just like each snowflake is unique, so is each human being. No two are the same. We know there is one that is just right for you!
At the center of the universe dwells the Great Spirit. And that center is really everywhere. It is within each of us.