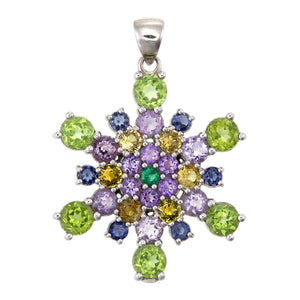 Denali Snowflake Amethyst, Citrine, Iolite, Peridot, & Emerald Sterling Silver Pendant
This splendid snowflake pendant features a colorful blend of amethyst, citrine, iolite, peridot with a tiny emerald in the center set in sterling silver. You have to see it with your very eyes to appreciate the beauty and majesty of this pendant. 
Amethyst is a favorite gem for it all its purple shades and hues. Did you know that the name amethyst comes from the Greek word for "not intoxicate"? Wearing amethyst jewelry is said to protect one from drunkenness. Maybe that's the reason we love this gem!
We named this unique piece of jewelry after the highest peak in North America. Denali's summit elevation is 20,310 feet, and we imagine the snowflakes that fall this high look just like this pendant with a petite emerald in the center. 
Each piece in our Snowflake Line is unique just like the cold flakes that fall from the sky. We let each gem speak to us in how they should be arranged. We let the colors and gemstones tell the story. We did not set out intending to make pendants that resemble snowflakes; however, in trusting the gems to arrange themselves, they naturally did so in a hexagonal structure, just like real snowflakes in winter. 
Just like each snowflake is unique, so is each human being. No two are the same. We know there is one that is just right for you!
Calvin: Today for show and tell, I've brought a tiny miracle of nature: a single snowflake! I think we might all learn a lesson from how this utterly unique and exquisite crystal turns into an ordinary, boring molecule of water just like every other one when you bring it into the classroom.
And now, while the analogy sinks in, I will be leaving you drips and going outside... 
Bill Watterson