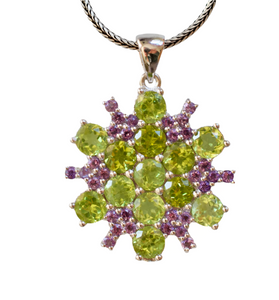 Silver Mt. Amethyst & Peridot Sterling Silver Snowflake Necklace
Handmade item

Ships from a small business in

California

 Pendant height: 1.5 Inches; Pendant width: 1.25 Inches

Materials: Silver

Gemstone: Amethyst
Each piece in our Snowflake Line is unique just like the cold flakes that fall from the sky. We let each gem speak to us in how they should be arranged. We let the colors and gemstones tell the story. We did not set out intending to make pendants that resemble snowflakes; however, in trusting the gems to arrange themselves, they naturally did so, just like real snowflakes in winter.

Just like each snowflake is unique, so is each human being. No two are the same. We know there is one that is just right for you!

Faceted amethyst and peridot gemstones make this piece truly unique!