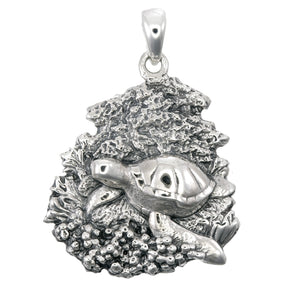 Sea Turtle in Coral Sterling Silver Pendant Necklace
This sterling silver pendant 1 1/4" tall x 1" across..... 
More importantly, with each purchase of this inexpensive treasure, a $10 donation will be made to 4ocean, a non-profit organization that has already removed more than 8 million pounds of plastic and other refuse from our oceans. 
Please check out our other jewelry that supports causes, such as the Seva Foundation and The Honeybee Conservancy. Thank you very much!