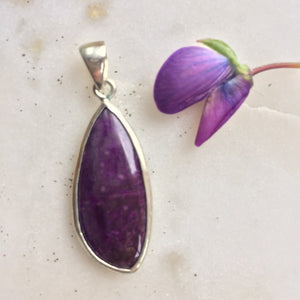 Roxa Love Sugilite Sterling Silver Tear Drop Pendant
Sugilite is the premier love gemstone! This deep purple stone embodies not only the perfection of divine love but the love between humans on Earth. Its power creates warm protection for those that wear it making sugilite perfect for deeply sensitive and compassionate individuals that are affected by negativity and despair.
Mother nature's splendor is truly displayed with this asymmetrical sugilite pendant. Wearing it brings positivity and light, as well as safety and serenity. You will feel self-love and love for others strongly with this pendant near your heart.
This stunning example of sugilite is about 1" long excluding the bail. The widest portion is 0.5". It is set in sterling silver. 
"how you love yourself is
how you teach others
to love you"
Rupi Kaur