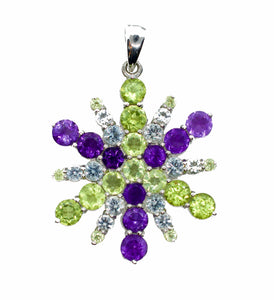 Lake Louise Peridot, Amethyst, & Natural Zircon Snowflake Mandala Pendant Necklace
37 exquisite gemstones are arranged in a beautiful snowflake design in this unique piece of fine jewelry we named after Lake Louise in Alberta, Canada. Featuring peridot, amethyst, and natural white zircon, this pendant sparkles in so many ways.
Peridot is one of only two gemstones not formed in the Earth's crust (diamond is the other). It's called an "extreme" gem because it is born of fire in the molten rock of Earth's upper mantle. Thanks to earthquakes and volcanoes it is brought to the surface. Peridot has also been found in comet dust!
We have included a suggested chain option, but we have many chains to choose from here should you desire a different length or thickness.