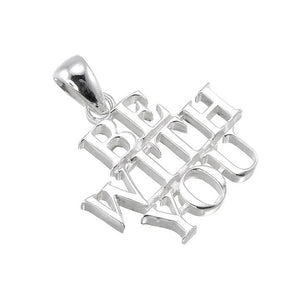 Grateful Dead Be With You Sterling Silver Pendant
A lovely view of heaven, but I'd rather.....
This sterling silver pendant measures about 3/4" across. It could be added to a charm bracelet or worn as a pendant on a chain. 
Inspired by our favorite band and adventures in life, this fun conversation piece will be the envy of your Dead Head friends. Please check out our other GD inspired pieces.
The spark that has not only kindled the flame of our creativity but has ignited it and let it grow into the bright raging fire that guides us to this day has been the music and art of the Grateful Dead. This humble piece reminds us of the gift of community, love, and friendship we feel ever so grateful.

We offer this unique piece of fine jewelry with a chain option, or you may choose from our wide selection of chains here.