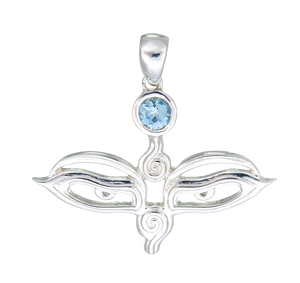 Grateful Dead Eyes of the World Silver and Aquamarine Pendant Necklace
Our sterling silver Eyes of the World pendant pays homage to our favorite musicians and the organization they have been an integral part in supporting throughout the years. It began in 1979 when the Grateful Dead played their first benefit for the Seva Foundation raising over $100,000.
This beautiful pendant measures 1.25 inches across. It features a stunning aquamarine gem.
10 dollars from the sale of this piece will be donated directly to the Seva Foundation whose mission is to "Restore sight to a person who is blind with a 15-minute cataract surgery. Your gift supports a lens implant, follow-up care, medication and transportation. Give a person in need the power of sight and transform their life forever." Thank you very much!
Please check out our 18K Gold and Blue Sapphire Eyes of the World Pendant and our full line of Seva Foundation donation pendants. 
Wake up to find out that you are the eyes of the world
The heart has its beaches, its homeland and thoughts of its own
Wake now, discover that you are the song that the morning brings
But the heart has its seasons, its evenings and songs of its own