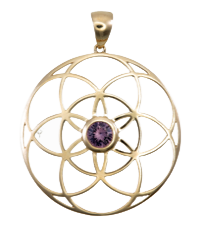 14K Gold Sacred Geometry Seed of Life with Spinel Pendant Necklace
The seed of life is found worldwide as an ancient symbol of creation. It is said to bring blessings and protection to those that wear it. It is also used for fertility and to be worn during pregnancy. This pendant measures 1.5 inches across. 
Also called the Timur Ruby, spinel has long been treasured by kings and was recently added as an August birthstone.
This item ships directly from Thailand. Please allow up to two weeks for delivery.