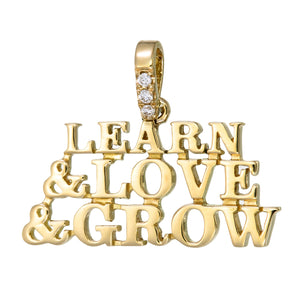 Learn & Love & Grow 18k Gold and Diamond Pendant
We've updated this beautiful little sublime pendant because we simply love it and the message it embodies. It is inspired by the lyrics of Robert Hunter in the sweet song he wrote with Jerry Garcia "Days Between".
Our Learn & Love & Grow pendant is the perfect size measuring 1" long by 1/2" tall. It is created from gold and adorned with diamonds, of course.
in~joy....
There were days
and there were days
and there were days I know
when all we ever wanted
was to learn and love and grow
Robert Hunter