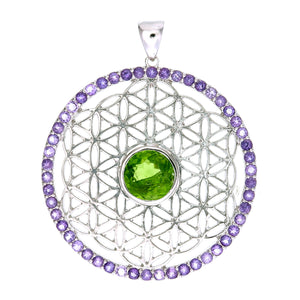 Mardi Gras Purple and Green Flower of Life Pendant with Peridot and Amethyst
For all you purple and green fans out there, this lovely piece has one large peridot in the center and is surrounded with 50 small Brazilian Amethyst set in sterling silver. The brilliant purple and green remind us of Mardi Gras and the celebration surrounding it.
The official New Orleans Mardi Gras colors of purple, green, and gold were selected in 1872. The purple represents justice, and the green represents faith. 
Once studied by Leonardo DaVinci, the Flower of Life is made of 19 overlapping circles said to represent the interconnectedness of all living beings. The oldest known representations of the Flower of Life are found in the Temple of Osiris in Egypt. 
Wearing our Mardi Gras Flower of Life pendant will make you feel like celebrating the interconnectedness of all beings! This pendant is a party in itself.
Amethyst is a favorite gem for it all its purple shades and hues. Did you know that the name amethyst comes from the Greek word for "not intoxicate"? Wearing amethyst jewelry is said to protect one from drunkenness. Maybe that's the reason we love this gem!
This pendant measures 1 1/2" in diameter.
"You must not lose faith in humanity. Humanity is like an ocean; if a few drops of the ocean are dirty, the ocean does not become dirty."
Mahatma Gandhi